FREE GUIDE: The Roadmap to
Chronic Illness /Mystery Illness Recovery
How to Create
A Confident Plan for Recovering From Chronic Illness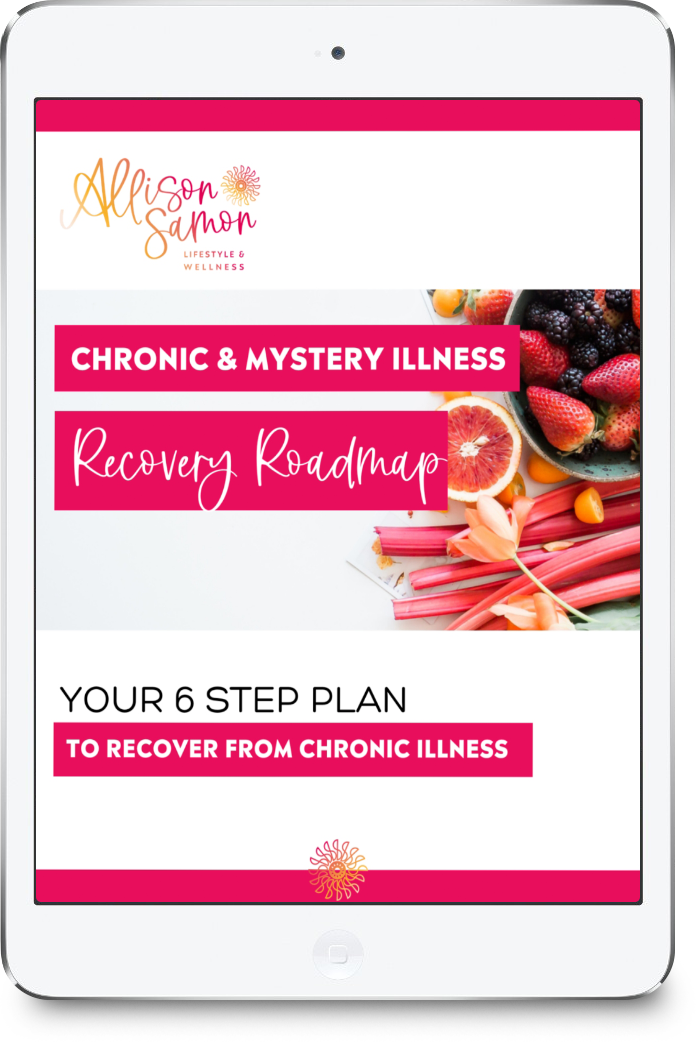 Speaking From Experience…
If we haven't met yet, I'm Allison Samon the Chronic Illness / Mystery Illness Detective.
Otherwise known as Allie the Functional Nutritionist. Not only have I learned how to successfully live without chronic pain, medications, nor frequent doctor and specialist visits for testing and therapies, I have helped hundreds of clients create their custom path to recovery from chronic pain, fatigue, migraines, acne and struggles with stuck weight.
I wasted so many years of my life by working without a strategy for deciding how to choose, use and follow through with the right diet, supplements, and lifestyle habits to help my body to heal. Let's keep you from making the same mistake.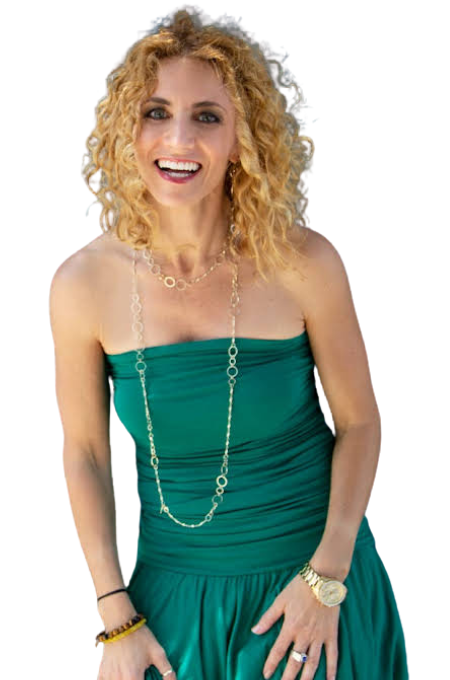 Learn the MASTER FORMULA to resolve your chronic symptoms, pain, extra weight and finally get your life back.
It's not your fault you've felt confused about how to heal your body: there's a gap between what your doctor or the internet offers and what you need to do at home to get out of the chronic illness cycle.
The strategies I share in the Roadmap help you:
Understand why your chronic nagging symptoms are happening.
Choose the best action steps for you that will work to bring down your pain, fatigue and weight.
And how to work in partnership with your body for life.
So why does having a chronic illness healing strategy matter?
As one of my clients said recently, "I feel like I've just thrown spaghetti at the wall to see what sticks."
Without the right strategy, you may have found a diet or supplement you tried didn't work, but you don't know why…
When you learn to use the right strategy to make decisions, you make faster progress toward a future where your chronic symptoms don't rule your life.
And THIS means you're able to follow your dreams and passions — whatever they may be — without fear of being limited by getting sidelined by pain or not having enough energy to get through your day – missing out on all the fun.
Here's what other people had to say about working with me:

"…my health issues were affecting my memory, focus and mental state. I felt irritate and frustrated at little things, which then affected my productivity, relationships, business and just about everything else. The only person I thought of contacting was Allison. I'd seen her speak before and knew she was very knowledgeable. I'm so glad I reached out. Her body transformation program was life-changing for me. In about a week, I felt my mind was already clearing. My memory and ability to focus improved. Allison gave me so many tools around food, cooking, grocery shopping and exercise, as well as time management and goal setting. Because of my customized program, I now focus so much better, my business has grown over 150%, I have more energy to play with my daughter and can now go on dates feeling more happier and more confident with how I look. I finally feel in control of my life again."
– Rika, Los Angeles
When I first came to Allison, I had already been through the gambit of nutritionists, naturopaths, functional medicine doctors and holistic practitioners of every stripe. I had suffered chronic back pain for about 12 years, and digestive issues for about 20. While each practitioner I saw shared some valuable wisdom and insights, it seemed no one could crack the code as to why I was suffering so much. I had been on elimination diet after elimination diet (I've been on so many, I can't even remember which ones), and still, despite living on an overly-complicated diet, the bloating and stomach pain that came with eating just wouldn't go away. My frustration was further compounded by having to maintain a hypervigilance about every. single. thing. I ate. It was exhausting and inconvenient to eat out with friends because I had to "that person" with all the amendments to my meal, otherwise if I ate something that set me off, I risked stomach pain that would keep me up for the next 3 nights.
The beauty of working with Allison was that she was able to meet me where I was. She knew I had already jumped through all the hoops, and she was able to find a new hoop that I hadn't already tried. And it WORKED! Within the 3 months we worked together, the bloating and pain subsided. Some of the visible signs of malabsorption I was experiencing improved. And best of all, I was able to reintroduce my favorite foods that I had avoided for years. I would recommend Allison to anyone who is struggling with nagging health issues, especially if you have already been around the block a few times and feel you're just not getting answers. Allison is a knowledgeable, caring and energetic coach, and if she could help me, I know she can help you too."
– Gili, Colorado
"
I am soooo thankful that our paths crossed.
I love working with you. It's all planned for me! You have helped me change my life for the better!! I love you!!"
– Jeana, Alabama
"Allie is the most valuable and truly amazing investment I have ever made in myself! She provided the education, accountability, personalization, and kindness that has helped me change my life for the better. Working with Allie has opened my eyes to the specific things in my diet and environment that challenged me (body, mind, and spirit). Today I am able to better navigate my day and my meals armed with understanding – I simply feel "in beautiful balance". Allie understands the challenges of living in this modern world, and I completely credit her with helping me find a path to be healthier, stronger, happier, and more hopeful."
– Jennifer, S. Carolina

A few years ago, I started experiencing, seemingly out of the blue, pain when swallowing. It felt like my throat was closing up, and it hurt to eat, even soft foods. I was an otherwise healthy and relatively fit 30-something and had NO idea what was going on or what could be causing this. I tried to manage it myself for a few months until I basically was crying through meals, at which point I started consulting various doctors and taking medications for acid reflux. While the medications helped my symptoms, I kept needing higher and higher dosages to deal with the pain. I underwent various tests, all to no avail. And when my situation turned out to be hard to solve, or perhaps didn't fit what my doctors were expecting, they essentially stopped listening and threw up their hands (or at least it seemed so to me). Enter Allison. From day one, she began developing a comprehensive understanding of all the various aspects of my life that might be contributing to the problem—from diet to exercise to sleep to stress at work and at home, recent life changes, etc. And perhaps even better than that, at least for me, she conveyed such certainty that, working together, we'd figure it out. Working with someone who actually cared whether we got to the root of the problem and who was so optimistic and positive was an immense relief to me after over a year of feeling scared and like my doctors weren't really listening. She helped me work through some dietary changes and in a few weeks I was essentially back to my old self. And I've been able to manage it with diet ever since. If you're struggling with any health issues that you just can't get to bottom of, I highly recommend working with Allison.
She's an amazingly caring, dedicated professional with a true passion for helping people improve their health and well-being, as opposed to just managing symptoms. Her positivity is infectious, and you'll learn a lot from her about general health and nutrition along the way!
– Courtney, Texas
All Rights Reserved © 2023 – Allison Samon Lifestyle & Wellness, LLC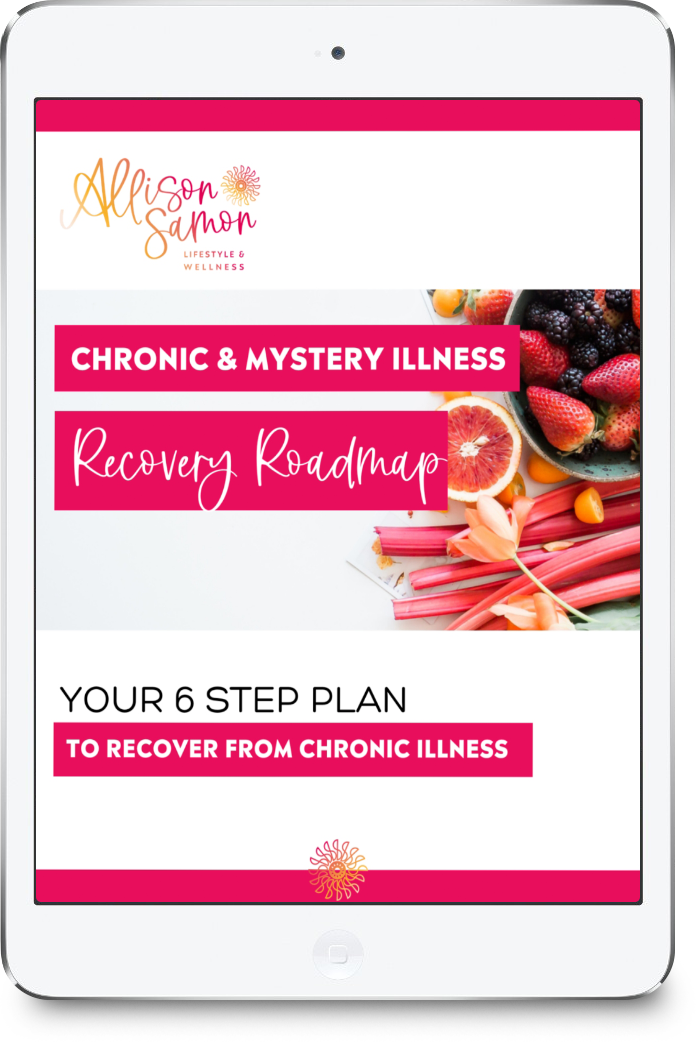 Privacy Policy: I hate spam and promise to keep your email address safe.
You are always free to unsubscribe at any time using the unsubscribe link.